Light Painting Portraits
Light painting portraits are distinctive, innovative, and magical. The photos have a dreamlike futuristic feel and lend themselves to tech company portraits, editorial work, advertising, book covers, and portraits of musicians.
I do not digitally manipulate the images. The effects are created by painting the subject and the surrounding area with colored light in a dark room while the camera shutter is open. This makes for images that feel especially organic and believable despite their surreal nature. My subjects and I have a great time creating light portraits together.
Fame in front of millions of Americans
I created and perform in the group The Aurora Light Painters. We were on Americas Got Talent and were hailed as "Spectacular!"
"I've never seen anything like this. I loved it!" - Howard Stern
"This is what we look for" - Howie Mandel
"Spectacular" - Sharon Osbourne
"Amazing" -Nick Cannon
America's Got Talent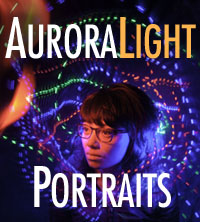 Speed, creativity, and reliability
For years I have been doing creative fast paced light painting portraits at parties and corporate events. 98% of the people I photograph end up with a great light painted image of themselves. It's through 25 years of light painting experience that this is possible. When shooting portraits at events, doing live performances, or working with a film crew, speed, creativity, and reliability are all vital.