Light Painting Portraits
People LOVE to be light painted! There is no better way to make an event magical and give people a fantastical keepsake. If you're throwing an event (convention, party, or wedding), I'd love to help make your event incredible.
The visualeffects are not created digitally. It's all moving lights around in front of the camera.
Fame in front of millions of Americans
I created and perform in the group The Aurora Light Painters. We were on Americas Got Talent and were hailed as "Spectacular!"
"I've never seen anything like this. I loved it!" - Howard Stern
"This is what we look for" - Howie Mandel
"Spectacular" - Sharon Osbourne
"Amazing" -Nick Cannon
America's Got Talent
OSCON 2016
Percona 2016
More light painting fun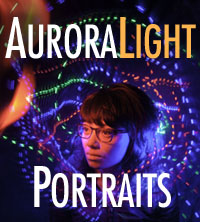 Speed, creativity, and reliability
For years I have been doing creative fast paced light painting portraits at parties and corporate events. 98% of the people I photograph end up with a great light painted image of themselves. It's through 25 years of light painting experience that this is possible. When shooting portraits at events, doing live performances, or working with a film crew, speed, creativity, and reliability are all vital.